| | | | |
| --- | --- | --- | --- |
| | CLASS DESCRIPTION | TIME | LOCATION |
| MON | Zumba | 6:30pm | 519 8th Ave 12th fl. |
| | Belly Dance Basics | 7:30pm | 519 8th Ave 12th fl. |
| | | | |
| TUE | Zumba | 6:00pm | 519 8th Ave 12th fl. |
| | Hip Hop Beginner | 7:00pm | 519 8th Ave 12th fl. |
| | Hip Hop Intermediate | 7:00pm | 519 8th Ave 12th fl. |
| | Salsa Absolute Beginner | 8:00pm | 519 8th Ave 12th fl. |
| | Salsa Advanced Beginner | 8:00pm | 519 8th Ave 12th fl. |
| | | | |
| WED | Zumba | 6:30pm | 519 8th Ave 12th fl. |
| | Belly Dance Basics | 7:30pm | 519 8th Ave 12th fl. |
| | | | |
| THU | Zumba | 7:00pm | 519 8th Ave 12th fl. |
| | Hip Hop Beginner | 6:30pm | Chelsea Studios 6th fl. |
| | Hip Hop Intermediate | 6:30pm | Chelsea Studios 6th fl. |
| | Salsa Absolute Beginner | 7:30pm | Chelsea Studios 6th fl. |
| | Salsa Intermediate | 7:30pm | Chelsea Studios 6th fl. |

SALSA CLASSES (1.5 hrs)
ZUMBA, BELLY DANCE
& HIP HOP CLASSES (1hr)

PRIVATE LESSONS (1hr)
$15 PREPAY ONLINE - BUY
$13 PREPAY ONLINE - BUY
$85 for individuals
$20 at the door
$16 at the door
$300 for 4 lessons
5 Class Punchcard - $70 - BUY
5 Class Punchcard - $60 - BUY
$95 for couples
10 Class Punchcard - $130 - BUY
10 Class Punchcard - $110 - BUY
$340 for 4 lessons
Monthly Pass & Punch Cards Excludes Sat. Kamaye Fitness Zumba Class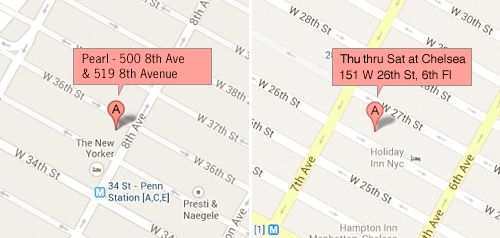 Classes meet Monday through Wednesday at Pearl Studios which has two buildings directly across the street from each other. 500 8th Avenue and 519 8th Avenue. Between 35th and 36th St. Thursdays through Saturdays at Chelsea Studios 6th Floor. 151 W 26th St. Between 26th and 27th St. We are just minutes away from Penn Station and Herald Square.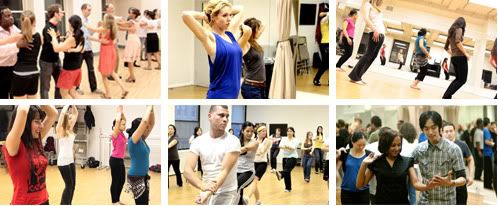 New York City dance classes
with R.i.S.E. Hip hop, Belly Dance, Salsa and Yoga. Professional, friendly and fun
dance lessons in NYC
for new and experienced dancers.